"We've been wanting to do this for a while," said Pierre-Michel Bouchard, Québec City Convention Centre president and CEO. "We're happy we were finally able to go ahead with this social cooking project that was so important to us. The Cuisinez au suivant initiative culminated in a fun event focused on mutual aid, sharing, and the joy of cooking. And it's something we can all be proud of. I'd like to thank all our volunteers who made this event possible."
The hors d'oeuvres and three-course meals were prepared by the guest chefs and 80 cooks-for-a-day in the spirit of fun and sharing. A wine-tasting and cooking workshop on how to cut down on food waste were also on the menu in the afternoon. Guests later got to sample the dishes they made in the workshop.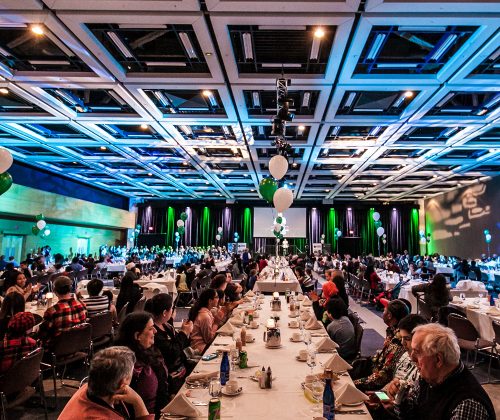 "The Cuisinez au suivant event is an engaging and inspiring activity that we hope to bring back next year with our partners in hopes of reaching even more people," said Québec Exquis! president Vincent Lafortune.
Using kitchens to drive social engagement is a long-established practice at the Québec City Convention Centre. In cooperation with its partner Capital HRS, the organization gives back to the community by donating kilos of extra food to various community organizations in the Québec City area.
Many thanks to the contributors, chefs, and producers
Gordon Food Service and its suppliers (Ardent Mills, Burnbrae Farms, Ferme Valupierre, Bonduelle, Montpak International, Parmalat, Olymel, True North seafood company) Cacao Barry, Par Ballon, Le Marchand de vin, Eska, Rouge FM, Freeman Audiovisuel, Thermomix, Compo Orléans, and Doyon Després.
Chefs and producers from the Québec Exquis! festival : Olivier Bernadet, La Traite; Matthew Leblanc and Jean-François Émond, L'Ail de l'Île; Dominique Dion, Légende par La Tanière; Érick Demers, Chez Boulay Bistro boréal; Jean-François Girard, L'Échaudé; Christian Lemelin, SSS and Toast; Guillaume Simard and Marie-Ève Naud, Fromagerie des Grondines, Naturoney; Turlo; Carolyne Julien, Ferme d'Achille Argouseraie; Didier Luberriaga; Le Chèvrerie de Charlevoix; Marc-André Bouchard, Fines Herbes par Daniel; Sébastien Lesage, Le Canard Goulu; Maison Maurice Dufour/Famille Migneron Charlevoix; Vincent Noël, Du Capitaine Ferme & Vinaigrerie.