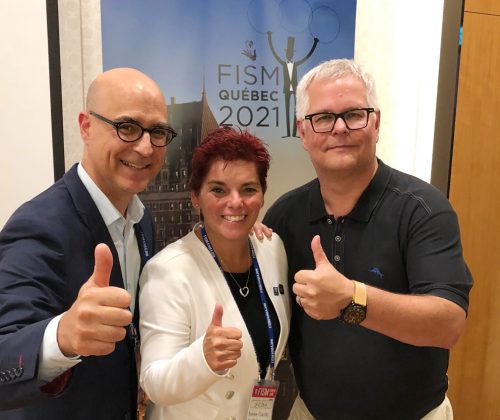 The great news was announced by FISM's President, Mr. Domenico Dante, on July 10 during the 2018 World Championships of Magic, which took place in Busan, South Korea. Québec City was able to convince the majority of the presidents of 101 FISM-member magic clubs to vote in its favour. Québec City was head-to-head against the Spanish city of Valladolid. Even more impressive: since the FISM's founding in 1948, the World Championships of Magic have never been held in North America.
"What an unbelievable feat to have attracted this well-known event to our city! It took quite a bit of magic to win this international bid and convince the FISM to hold one of its championships on North American soil—the first time in its history! When the organizers of the Festival de magie de Québec first approached us in 2014 to embark on this adventure, we immediately said yes! We pulled out all the stops, leveraging our expertise and breadth of resources, to create a stellar bid for the event. The end result? Québec City won!" Mr. Pierre-Michel Bouchard, CEO of the Québec City Convention Centre, enthusiastically explained.
"We would not have been able to convince the presidents of international magic clubs to vote for Québec City without the unwavering support and expertise of Jocelyn Guertin, Sales Manager for International Markets at the Québec City Convention Centre. Jocelyn and the team at the Centre guided us through each step of the bidding and selection process; they greatly contributed to highlighting our organization's credibility. We would like to thank them and give a nod to their dedication in helping organizations such as ours to attract major international events to Québec City," said Renée-Claude Auclair, President of the Club de magie de Québec and Co-Organizer of the Festival de magie de Québec.
Québec City's application was effectively presented in Busan, South Korea by Mr. Guertin, Ms. Auclair and Mr. Pierre Hamon, General Manager of the Festival de magie de Québec. Ms. Joan Caesar, the FISM's Canadian representative, and Mr. Shawn Farquhar, a renowned Canadian magician and the FISM's 2009 World Champion, were also on hand to support Québec City's bid.
The bidding process for the FISM's World Championships started way back in 2014. The Québec City Convention Centre and organizers of the Festival de magie de Québec took part in each step to showcase Québec City's undeniable allure as well as its wealth of event resources and infrastructure. One of the key steps was achieving an unprecedented goal: winning the bid to host the North American qualifiers for close-up magic and stage magic, which will attract over 500 magicians to Québec City in May 2020. These qualifiers, which are a Canadian first, will enable magicians to compete for spots in the 2022 World Championships—and the opportunity to be crowned the Grand Prix winners.
Québec City: A go-to destination for major international events
According to the International Congress and Convention Association (ICCA), Québec City ranks fourth as one of the top Canadian cities to host major events—just behind Montréal, Toronto and Vancouver. The Québec City Convention Centre has contributed in making Québec City such an appealing destination for conferences and conventions. Recognized the world over for its high quality standards and commitment to sustainable development, the Québec City Convention Centre is also the first Canadian convention centre to offer delegates, exhibitors and visitors free Wi-Fi with unlimited data.
About the Québec City Convention Centre
The mission of the Québec City Convention Centre is to attract and host conferences and other events. Its operations have economic benefits for the region while enhancing its national and international profile. The Centre is widely recognized and is certified LEED Canada-CI, LEED-BE Silver, BOMA BESt Level 3, and AIPC Quality Standards gold level. It was named World's Best Convention Centre by AIPC in 2006 and was a finalist for the same award in 2014.