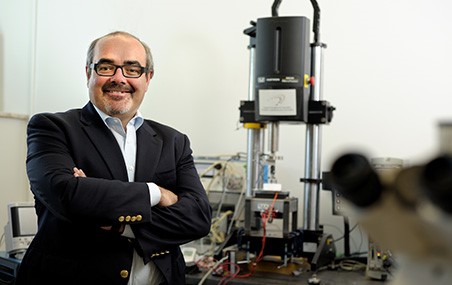 A professor in the Department of Mining, Metallurgical, and Materials Engineering Department at University Laval is the person to thank for bringing the symposium to Québec City. That would be researcher Diego Mantovani, director of the Laboratory for Biomaterials and Bioengineering and holder of the Canada Research Chair Tier 1 in Biomaterials and Bioengineering for the Innovation in Surgery (iBiomat).
In addition to his research activities, Professor Mantovani, an expert in advanced materials for biomedical applications, is an active member of the Québec City Ambassadors' Club and believes in the importance of getting involved in the organization of scientific conferences to help promote science and innovative industries internationally. In 2016, he was honoured in Montréal for organizing the 10th World Biomaterials Congress.
The medical aspect of surfaces and interfaces is critical for the worldwide medical device, implant, and artificial organ industry. It is widely agreed that the composition, morphology, and texture of the first few hundred atomic layers determine the clinical success of an implant. The symposium will examine the combined topics of surface physics, materials science and engineering, biology, and medicine. Over the last ten years the iBiomat Canada Research Chair has developed a unique international network of partners, each a leader in their field. Today, the Chair is recognized as a global expert on the topic. Bringing together researchers, clinicians, and industrialists from more than 20 countries, iBiomat pushes the boundaries of innovation and helps develop the next generation of surgical devices for the replacement of diseased organs and tissues. This made it easy for the international committee to decide unanimously to hold the 7th ISSIB in Québec City.
ISSIB-2019 will foster multidisciplinary research and international and inter-institutional collaboration. Through the sharing of new ideas and concepts, the exchange of information, and the use of emerging technologies, important issues related to surfaces and interfaces of biomaterials can and will be addressed, for the betterment of biomaterials science and engineering. With the goal of driving research, development, and innovation, the symposium will feature two workshops on partnership opportunities in the life sciences and medical devices industry. One will focus on Québec and Latin America and the other on the Québec City region and the Aquitaine region in France.