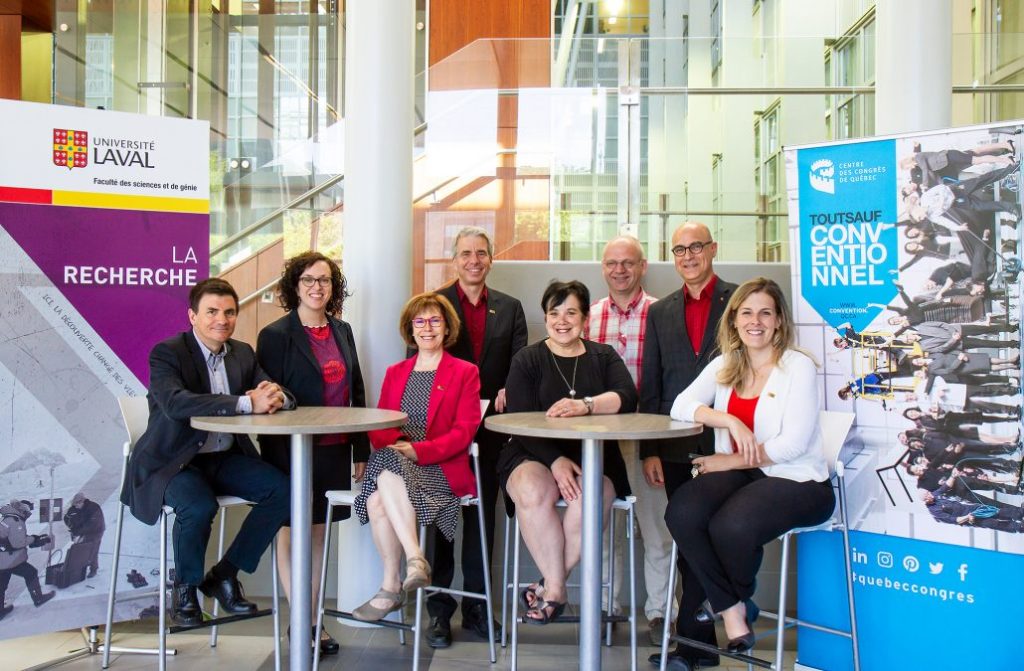 Georges Beaudoin, NSERC–Agnico Eagle Industrial Research Chair in Mineral Exploration
Marie-Elaine Lemieux, Sales Manager, Québec City Convention Centre
Line Lapointe, Vice Dean of Research, Faculty of Science and Engineering
André Zaccarin, Dean, Faculty of Science and Engineering
Michèle Auger, Full Professor, Department of Chemistry
Peter Vanrolleghem, Full Professor, Department of Civil and Water Engineering
Jocelyn Guertin, Sales Manager, Québec City Convention Centre
Isabelle Lynch, Director of Development, Communications, and Philanthropy, Faculty of Science and Engineering
"International events like this really enhance Université Laval's reputation," said André Zaccarin, Dean of the University's Faculty of Science and Engineering. "Québec City is an attractive destination for business, but research expertise remains a key part of any international conference bid."
The Québec City Convention Centre and Université Laval have been working together for more than 20 years with help from influential research professors to bring international events to Québec City. The payoff for academic research has been tremendous, as are benefits for the local economy.
The grants were officially awarded on June 12 by the Convention Centre's U.S. and international Sales Managers Marie-Elaine Lemieux and Jocelyn Guertin as part of a recognition event at Université Laval with Dr. Zaccarin and Faculty of Science and Engineering vice dean Line Lapointe.
Here are the three Ambassadors who were recognized for bringing international events to Québec City Convention Centre in 2017: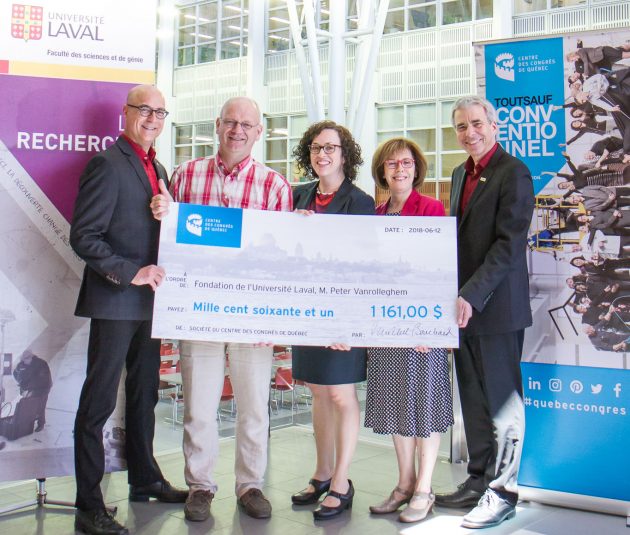 Peter Vanrolleghem
Department of Civil and Water Engineering
Conference: 12th IWA Conference on Instrumentation, Control and Automation (ICA 2017)
Université Laval research professors contribute a great deal to the city through the numerous international conferences they bring in every year. Alongside their professional activities, they use their contact networks to convince their associations to choose Québec City for their conferences. They are true ambassadors, promoting the city's economic development and international profile as they drive scientific progress in a number of leading-edge fields.
A drive to find new paths and tireless pursuit excellence are behind Université Laval's position among Canada's top research universities—its $377 million in research income ranking 6th in the country last year. Its 3,730 professors, lecturers, and other teaching and research staff share their knowledge and wisdom with a student body of over 43,000, of whom 25% are graduate students. Université Laval is the oldest French-language university in North America and has produced over 300,000 graduates to date, each contributing in their own way to building a better society.
About the Québec City Convention Centre
The mission of the Québec City Convention Centre is to attract and host conferences and other events. Its operations have economic benefits for the region while enhancing its national and international profile. The Centre is widely recognized and is certified LEED Canada-CI, LEED-BE Silver, BOMA BESt Level 3, and AIPC Quality Standards gold level. It was named World's Best Convention Centre by AIPC in 2006 and was a finalist for the same award in 2014.