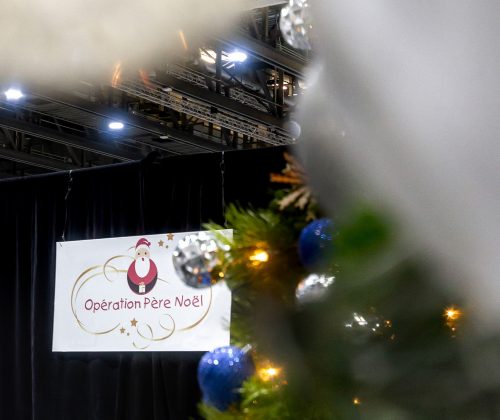 It is well known that the people of Québec City have big hearts and the holiday season, in particular, is for them a time of generosity and mutual aid by giving back to the community. These values are also very important to the team at the Québec City Convention Centre, which, throughout the year, supports the activities of the region's charitable organizations. Let's take a look at what's coming up in December 2021 especially, and how the facilities and people are helping.
The Québec City Convention Centre is pleased to contribute once again to the success of the Opération Père Noël organization, which helps 20,000 underprivileged children in Québec, including nearly 1,000 in the Capitale-Nationale. These children are paired with a Santa Claus who will make sure they receive a gift on the morning of December 25. The Convention Centre's facilities serve as Santa's workshop to receive and store the gifts until they are delivered to the children.
The year 2021 has been marked by a difficult economic context for those in need. As a true alternative food bank for the Québec City area, Moisson Québec and its hundreds of volunteers have been working hard since the end of November to prepare 9,000 Christmas baskets in the Québec City Convention Centre, with the help of its team and in full respect of the sanitary measures in place. Each basket contains two boxes of non-perishable foodstuffs. At the end of this important charity intervention, the equivalent of 500 pallets of food will be redistributed to vulnerable families by 93 community organizations.
With the help of many dedicated volunteers, the Convention Centre team is happy to help local organizations carry out their various generosity operations, just in time for the holidays. The Québec City Convention Centre's spaces are known to be an ideal place to hold events or business meetings, but it's wonderful to see that they are just as great when it comes to giving back to the community!